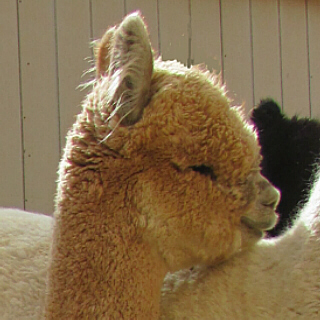 We are Castle Rock's only full service yarn shop and Alpaca fashion boutique.
Our store is run by a dedicated group of local alpaca breeders in Colorado who raise these wonderful creatures for the incredible fleece they produce. Our fashion selections come primarily from the mills in Peru, the world center for alpaca fiber production. We do have some products commercially made in the USA, and we have a number of hand-made items by our local alpaca breeder artisans.
We are always available during our store hours to assist you and answer any questions about alpaca clothing, raising and caring for alpacas, yarn or knitting/crochet/fiber arts questions. Our knowledeable people have first-hand experience raising alpacas and know the intricacies of the diffrent grades of alpaca fiber and how it is best utilized.
Alpaca fleece is coveted throughout the world for the natural, extremely soft yet durable yarn and fabric it produces. It is considered a luxury fiber.
Alpaca fiber compared to wool?
Warmer
Stronger
Lighter weight
No lanolin, thus naturally hypoallergenic
Not itchy like wool can be
Our Everything Alpaca Breeders are:
Deb and Chuck Powers – Bella Vita Ranch
Julie Ritschard – BI Bar Ranch
Heather Marley – Angel's Crossing Alpacas
Karen and Wes Champion – Blazing Star Ranch
Sue and Tom Lindh – Lazy Daze Ranch
Elizabeth and Ron Cline – El Zorro Alpacas
Sheri and Curt Neuman – retired from Plan B Alpacas
Andrew MacArthur – retired from Spring Too Alpacas
Our Mission
Everything Alpaca is a boutique/yarn shop operated by a group of local Colorado alpaca breeders. Our mission is to raise awareness of the fabulous fiber produced by these intriguing creatures and make alpaca fashion, yarn and products more readily accessible to the public. The yarns we carry include alpaca and other natural fibers. We teach classes in knitting, crochet, spinning, weaving, and felting. Peruse the information on our site and view the beautiful end products made from alpaca fiber. We hope to see you soon at Everything Alpaca.
Want to chat?
If you have any questions, please feel free to send me an email using my Contact Form.